Thursday, May 4 – 10 am
CONGRATULATIONS ARE EXTENDED TO OUR 5-PIN MEDALISTS FOR D12 – May 4/2023
Gold
Silver
Bronze
55+ Men
Franco Merola
55+ Women
Elaine Devlin
65+ Men
John Tibando
Alain Goyette
65+ Women
Bonnie Palmer
Sue Lynch
Wendy Bowman
75+ Men
Barry Hollis
William Boyko
75+ Women
Sharon Boyko
Eva Ferguson
CONGRATULATIONS ARE ALSO EXTENDED TO JOE HACHE WHO WON GOLD FOR DISTRICT 10: HASTINGS/LENNOX/ADDINGTON/PRINCE EDWARD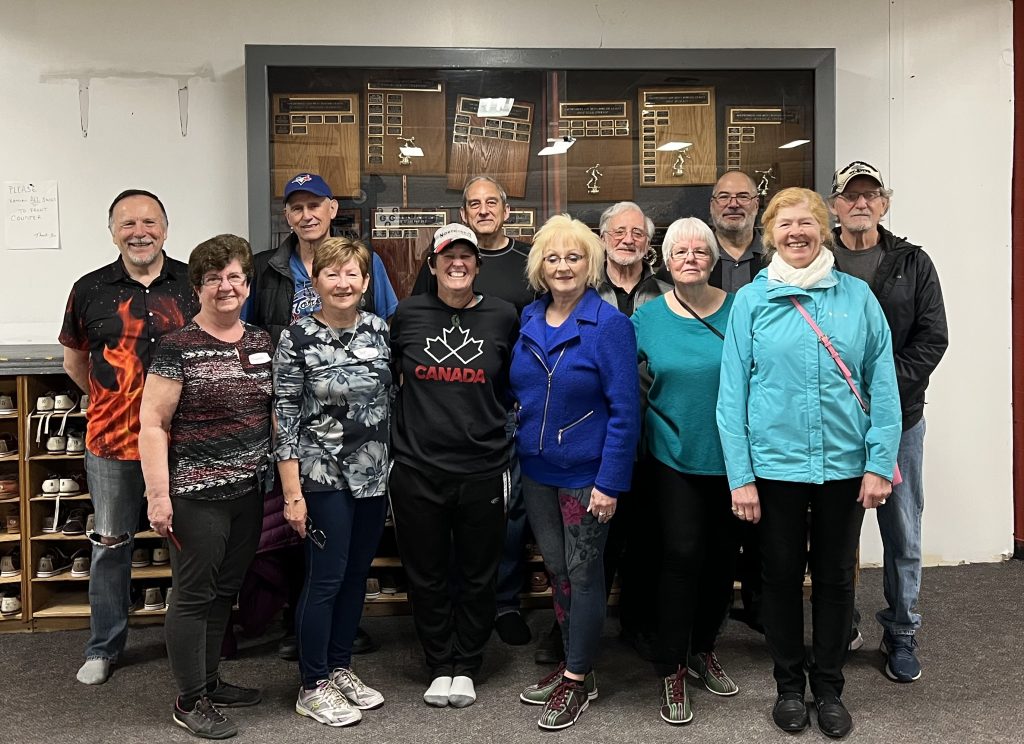 1st Row (L-R): Sharon Boyko, Sue Lynch, Elaine Devlin, Wendy Bowman, Eva Ferguson, Bonnie Palmer
2nd Row (L-R): Joe Hache, William Boyko, Franco Merola, Barry Hollis, Alain Goyette, John Tibando
Singles: Men & Women: 55+ 65+ 75+ Pins Over Average
Venue: Northshore Lanes, Northumberland Mall, 1111 Elgin St. West, COBOURG
D12 Contact: Eva Ferguson 289 252 1162 eva.ferguson@cogeco.ca
Northshore Contact: Bob Chatten 289 252 1709 northshorelanes22@gmail.com
EACH INDIVIDUAL MUST PRE-REGISTER; the online registration process is AVAILABLE NOW through the OSGA website.
Copy / paste appropriate link(s) into your browser to register for your events
New Members: https://osga55plus.ca/register
Returning Members: https://imembersdb.com/index.html?EventID=7746
This is a qualifying event for the Provincial Summer Games: Brantford Aug. 9-11, 2023.
Manual registrations will be accepted if you contact the convenor first. The annual $20 district participation fee per person allows individuals to participate in multiple events. Manual registration form, waiver, and schedule is available through our Downloads Tab.
There will be an additional $15 per person payable at the venue, day of the event, for 3 games, plus rentals shoes ($2.50) if required. No outside food or drink permitted (including Tim Hortons).
District Games Eligibility: Any person 55+ living in District12 – Kawartha Lakes/Peterborough/Northumberland counties.
OSGA Technical Information and Guidelines: Five Pin Bowling